IV Medication Labels Help Facilities Deliver Reliable Care to Patients
Intravenous Therapy or an IV is one of the most common methods of administering medications in a number of health environments. An IV supplies fluids or specialty drugs to patients by delivering medicines through a tube and needle directly into the vein. Sometimes a piggyback is also applied to administer more than one medicine at a time. In hectic emergency and patient care environments where this form of administration is used often, it is critical to have a method in place for quick identification of administered medicines for the patient.
While this information is typically written down on the patient's chart, it is equally essential to label the source of the drug to deliver the best possible patient care. IV medication labels supply critical information to nurses, doctors, technicians, and other health professionals for safe drug administration. Labels may be used to prevent medicine mix-ups. Adding the wrong drug to the mix or combining incompatible medications is dangerous for the patient. These scenarios have occurred frequently and IV medication labels are designed to reduce the chance of errors.
What Purposes Do IV Medication Labels Serve?
An IV medication label should supply pertinent information including the drug name, current dosage, and any precautions. These labels may also be used to provide information about additives included in the given solution. An IV medication label typically includes the following:
Patient Name
Room Number
Solution Information
When Infusion Started
Preparation Time & Date
Added Drugs & Strengths
Expiration Date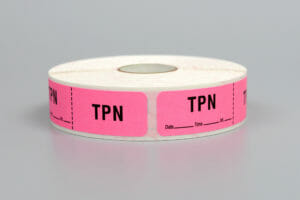 These tags are frequently placed on the IV bag to help professionals identify the current medications being provided intravenously. Providers are also able to offer special materials capable of withstanding certain conditions such as cold temperatures or extreme heat when needed. Pre-printed options make it is easier to read the information and have reduced risk of fading or damage.
Options are also provided to show any added medicines and information specific to the patient's needs. IV medication labels are applicable for both slow drip application and push, rapid injection applications. These items help ensure professionals are able to easily follow the "six rights of drug administration" as referenced in this healthline article. The rights cover the following for providing medications:
Provide to the Right Patient
Provide the Right Medicine
Provide the Right Dose
Give Medicines at the Right Time
Use the Right Administration Route
Follow Up with the Right Documentation
Since an IV may contain a specific medication or be used as a drip with saline solution, it is important to know what is currently being fed through it to avoid dangerous mix-ups. Sometimes a drug must be mixed with the saline solution making it imperative to know what is in the bag before adding another medicine. If the bag and tubing are not marked appropriately, this could lead to patient harm.
Shamrock Labels is a leading innovator in IV medication labels along with other types of drug administration identifiers. We want to ensure your patients receive the right drug every time and receive exceptional care. Contact us today at (800) 323-0249 or email us through the contact form to learn more about the products we are able to offer your facility.