5 Things You Need to Know: Cryogenic Labels and the COVID-19 Vaccine
5 Things You Need To Know About Cryogenic Labels
COVID-19 vaccination has begun, and millions of doses are shipping across the country. As excited and relieved we are for this moment, there is much to consider as we plan for the COVID-19 vaccine. But, one thing we all know – having the right COVID-19 vaccine-related products will be critical. That is where Shamrock Labels can help.
With each approved vaccine comes a protocol calling for specific products to ensure safe administration. Vials of the Pfizer vaccine, for example, must be stored at -94℃. What does this mean for COVID-19 vaccine-related labels? We've got answers – starting with cryogenic labels.
1. Engineered Just For This Type of Application
While the COVID-19 vaccine is new, ultra-cold storage and cryogenic labels are not. Over recent years, nearly half of the new FDA drug approvals require special refrigeration during transport and storage. Cryogenic labels are a trusted mainstay for extreme environment applications, and are engineered to withstand exposure to liquid nitrogen, thaw cycles, chemicals, solvents, and ultra-low temperature freezers. In fact, Shamrock Labels has been offering a wide range of high-quality, durable cryogenic products for years.
2. Built To Stick No Matter How Cold
What good is a label if it doesn't stick? Cryogenic labels use special polypropylene materials with robust adhesives to ensure the firmest adhesion even at the lowest subzero temperatures, without degrading, tearing, edge-lifting, or scuffing. And, cryogenic labels easily adhere to multiple surfaces, including plastics, glass, and metals, in ways that standard labels just can't do the job.

3. Complete Legibility at the Coldest Temps
What about readability? The unique construction of cryogenic labels means exposure to solvents, moisture, and below-freezing temperatures won't impact legibility. What if you need to write on a cryogenic label? Use a specially designed Cryo pen that won't fade or smudge, no matter how cold. And thermal label printing? We supply a wide variety of Thermal Transfer Ribbons that produce a clear imprint for all ultra-cold temperature applications.
4. Easily Works with Laser and Thermal Printers
When it comes to cryogenic labels, one size doesn't fit all. That's why we offer a variety of options for laser and thermal printers, in white or colors, and in multiple sizes to fit your application. Browse our interactive product catalog to see all that we offer.
Laser Printer Labels on 8-1/2" x 11" Sheets

Liqui-Stick Label Laser Sheets -196℃
Laser Smudgeproof Kimdura® Sheets -54℃

Cryogenic Labels

Cryo-Stick Labels in Sheets or Rolls -80℃
Cryogenic Labels for Hand Marking in Sheets
Cryogenic Labels for Thermal Printers in Rolls
Wrap-Around Labels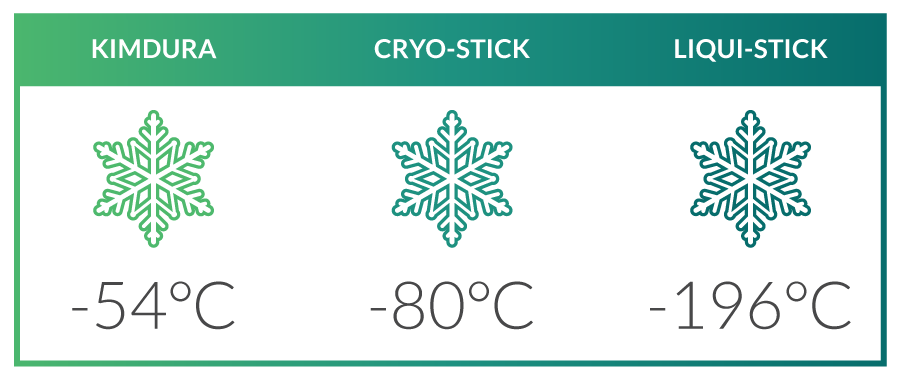 5. We Know Cryo
There's a lot at stake with the COVID-19 vaccine, and we all play a role in this unprecedented undertaking. Whether your ultra-cold storage houses COVID-19 vaccines or non-vaccine medical products, Shamrock Labels is ready to help you — by answering questions, offering expert advice, and making sure you have what you need for the days and months ahead.

Are You Ready to Vaccinate?
Shamrock Labels is Here to Help.
---